Give the gift pretty + powerful postpartum. Lunnie's nursing bra makes the perfect gift for new and seasoned mamas alike.  You'll be supporting a small, mama-owned business, too!
Are you a mama hoping for Lunnie bra? Add it to your baby registry! 
Once the e-gift card is purchased, a unique code will send directly to your email. You can forward to the recipient or print for a card, however you choose to gift!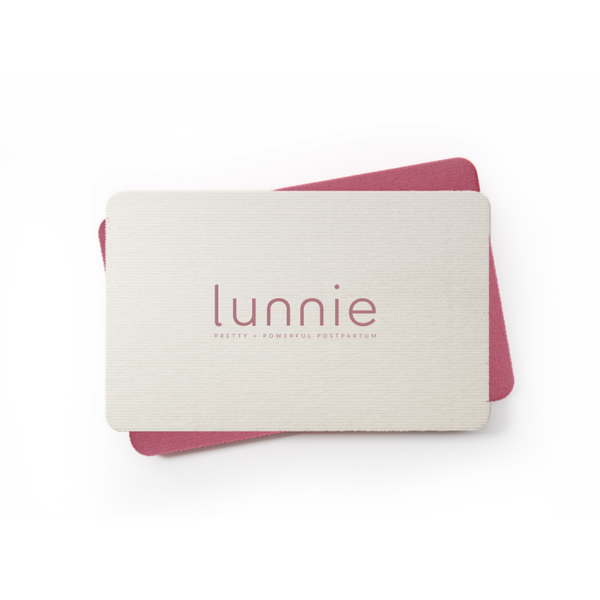 FIT GUIDE
If you're between sizes, we recommend sizing up.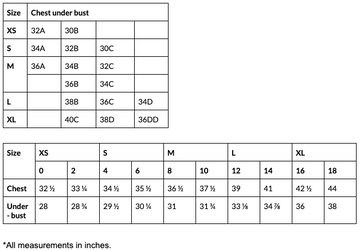 MATERIALS AND CARE
Materials: 57% cotton, 38% modal, 5% elastane, exclusive of trims
Care instructions: Wash on a cold, gentle cycle with similar colors. Hang to dry. No fabric softener. Do not bleach.
FAQ
What is a nursing bra and how does it work?
A nursing bra is an essential garment worn by a breastfeeding mom that allows her to easily feed her baby. The Lunnie bra contains an easy-to-use clasp at the top of each cup that can be opened with one hand, allowing the cup to fold down for nursing. When the feeding is done, the cup is folded back up and the clip is clasped back to enclose the bra cup to its original shape. 
Can I use FSA/HSA money to buy a nursing bra? 
Depending on your plan, yes! We recommend contacting your administrator to find out if nursing bras are covered under your plan and what documentation is needed to receive payment approval. At this time, we cannot accept FSA/HSA payments directly. Keep your email receipt to submit to your plan administrator. 
How do I know what size nursing bra to get? 
Getting your correct measurements is key (please reference our Fit Guide). In general, your bra size in the third trimester will be fairly close to your postpartum bra size. Breastfeeding moms can fluctuate a full cup size throughout the day. That's why we designed our nursing bra to be wireless and have a 5-hook-adjustment to adapt to your changing body. 
Is the nursing bra wireless? 
Yes, the nursing bra is wireless to better adapt to a breastfeeding mom's fluctuating cup size. Removing the wire also reduces irritation to the breasts, which can sometimes result in mastitis. 
Are the nursing pads removable?
No, the nursing pads are sewn into the bra so the bra shape stays intact and the pads don't get lost in the wash. Based on extensive research with our Lunnie Hive community, most moms preferred non-removable pads. 
How much liquid can the nursing pads contain?
The nursing pads were designed to be a pantyliner for your bra. It can comfortably contain 1.14 fluid ounces per side. The absorbent fabric dries quickly so you should be able to wear your bra all day. If you are a heavier leaker, we recommend you use additional pads.
Can the bra go in the wash?
Yes! We recommend washing the bra on a cold, delicate cycle. Line dry. Do not use bleach or fabric softeners. Because the bra cups are sewn in, the bra reshapes beautifully to its original form. Bonus: No lost pads in your washing machine!